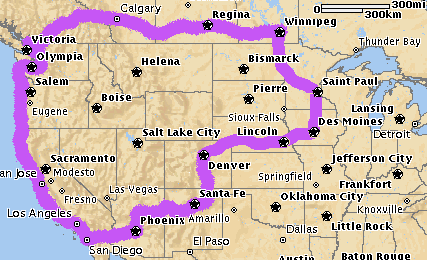 Agressive? Yup. It includes over 6000 miles in 16 1/2 days—roughly 40% of it on two-lane roads—with stops planned for Phoenix, San Diego and Portland, all where I know people, and Vancouver, where I don't. It also includes lengthy stops at Banff and Olympic National Parks. There are a lot of variables that could prevent it from happening, of course, not the least of which include buying a house or experiencing a vacation-veto at work. We'll see. Right now I'm aiming for late July through early August, although that's somewhat flexible. (I'm planning on having the Turkey Party in late August and would like to have a couple of buffer weeks between the events.) For the short term, I have a lot of research to do around prices and locations, as I really have to keep the entire trip under $1500. If I don't think I can do that, I'll probably have to scale the trip back some.
In other news, I need a new car.
~ ~ ~
Fair warning: The first person to call or write to lecture me on the fine points of vehicle depreciation will get smacked.